UFC Rankings 2023 : 12 Best Fighters This Year
Undoubtedly one of the world's most well-known and liked mixed martial arts promotions (MMA) is The Ultimate Fighting Championship (UFC).
The UFC assigns its fighters a yearly ranking depending on how well they perform and succeed in the octagon. Time to review the top UFC fighters of this year as 2023 kicks into gear.
12 Best UFC Fighters in 2023
1. Jon Jones - Light Heavyweight
Jon Jones still holds the top spot in the light heavyweight division even though he hasn't fought inside the Octagon since February 2020. He held the UFC light heavyweight title for more than ten years, which greatly contributes to his unmatched record of dominance.
Jones is renowned for his diverse skill set and for using both grappling and striking tactics to outnumber and subdue his opponents. Although he and the UFC are currently engaged in a contract dispute, if and when he returns to the Octagon, he will surely be a formidable opponent.
2. Francois Ngannou - Heavyweight
Francis Ngannou, who defeated Stipe Miocic in a brutal knockout in March 2021, is the current UFC heavyweight champion. Ngannou is known for having fantastic punching power because several of his victories were via knockout. It's impossible to imagine anyone unseating him anytime soon because he is a terrifying opponent for everyone in the division.
3. Kamaru Usman - Welterweight
Usman appeared to be headed for a sixth title defense and a tie with Anderson Silva for most straight victories in the UFC until Leon Edwards stunned the world with a head kick in Round 5 of UFC 278. The 35-year-old Usman, who gave up the first takedown of his career to Edwards in the first round, will have a chance to atone in a trilogy fight on March 18 in London.
4. Israel Adesanya - Middleweight
The current middleweight champion, Israel Adesanya, is regarded as one of the best strikers in the world. He has defended his championship greatly and has a stellar record of 21-1-0.
source - https://www.marca.com/
In his upcoming title defense, Adesanya will square off against Robert Whittaker. Their fight from 2019 ended in Adesanya's knockout victory. If he prevails over Whittaker in his championship defense, Adesanya will solidify his standing as one of the greatest UFC fighters ever.
5. Alexander Volkanovski - Featherweight
With a stellar 22-1-0 record, Alexander Volkanovski is the current featherweight champion. Volkanovski's strong fighting technique has helped him win several fights, including two over former champion Max Holloway.
Volkanovski will take on Brian Ortega in his upcoming title defense; this fight between the top two featherweights in the world is sure to be exciting. Volkanovski will solidify his position as one of the top fighters in the world if he prevails in defending his belt against Ortega.
6. Valentina Shevchenko - Flyweight
The women's flyweight division of the UFC features Valentina Shevchenko as a competitor. She is ranked as the champion as of 2023. She is regarded as one of the top fighters in the world, pound-for-pound, with a stellar record of 21 victories and 4 losses.
Source - TheMirror
Shevchenko has continuously defended her championship and is renowned for her powerful hitting and dominating grappling abilities. Moreover, she was a former Muay Thai world champion, and her background in the discipline has benefited her in the UFC.
7. Amanda Nunes - Bantamweight/Featherweight
One of the world's top female fighters is Amanda Nunes. Her 21 wins and 4 losses have earned her the current UFC Women's Bantamweight and Featherweight Champion titles. Ronda Rousey, Holly Holm, and Cris Cyborg are well-known fighters Ronda Nunes has defeated. She has a powerful strike but is also skilled in Brazilian Jiu-Jitsu and grappling.
8. Jan Blachowicz - Light Heavyweight
Presently holding a 28-8-0 record, Jan Blachowicz is the light heavyweight champion. Many victories, including one most recently over Israel Adesanya, have been won by Blachowicz thanks to his potent striking and strong grappling abilities.
In his subsequent championship defense, Blachowicz will take against Glover Teixeira; nonetheless, this could be a difficult opponent for the victor. However, if Blachowicz can hold on to his crown, he'll keep solidifying his place among the world's top fighters.
9. Rosa Namajunas - Strawweight
The present strawweight female UFC champion is Rose Namajunas. With an 11-4 record, the Lithuanian-American competitor has defeated some of the best strawweight in the UFC, including Joanna Jedrzejczyk and Weili Zhang. A well-rounded fighter, Namajunas is a force to be reckoned with in the category, thanks to her hitting and submission abilities.
10. Khabib Nurmagomedov - Lightweight
A former UFC fighter regarded as one of the best of all time is Khabib Nurmagomedov. He is not listed in the UFC rankings as of 2023 because he has given up fighting. He had a 29-win, 0–loss record and has defeated some of the top fighters in the world, including Conor McGregor and Dustin Poirier.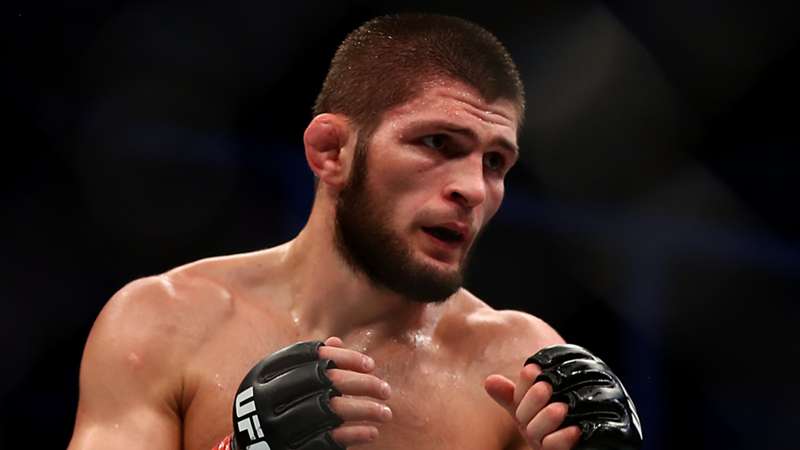 source - Dazn.com
With his harsh attitude and hard work ethic, Nurmagomedov was known for his dominating wrestling and grappling abilities. The MMA community still adores him, and the future combatants will be motivated by his legacy.
11. Dustin Poirier - Lightweight
With a record of 28-7-1, Dustin Poirier was the previous UFC lightweight interim champion. Max Holloway, Dan Hooker, and Conor McGregor are just a few of the top fighters Poirier has defeated. Poirier is a versatile fighter who will challenge anyone in the UFC's lightweight division thanks to his striking and grappling abilities.
12. Brandon Moreno - Flyweight
Brandon Moreno is currently participating in the flyweight division of the UFC. He is regarded as the champion as of 2023. With a stellar record of 21 wins, 5 defeats, and 2 draws, Moreno is one of the best fighters in the world, having defeated Deiveson Figueiredo, among other top competitors.
He is renowned for his frantic fighting style, powerful grappling abilities, and resilience in the face of defeat. A long and arduous road led Moreno to victory, but he persisted and now owns the world's title of top flyweight fighter.
Summing Up
In conclusion, it is important to remember that real support for the sport and its competitors is essential to continue growing and succeeding while discussing the UFC rankings. Fans can ensure that MMA thrives for years by supporting the sport and its competitors.
You can watch the live updates of the UFC at TotalSportk MMA Streams. We provide the genuine and latest updates.